stellite 6 end cap for steel industry
Brand: TNM
Product origin: China
Delivery time: 4 week
Supply capacity: 500pcs+/month
stellite alloy 6 is a cobalt-based, chromium-tungsten alloy wildly used in wear environments, its low coefficient of friction minimizes the risk of seizing and galling, even in applications where lubrication is not practical.
stellite 6 end cap for steel industry
stellite 6 end cap for steel industry
Stellite 6 end cap can be used in hot galvanizing line, someone also choose stellite 4.
Stellite chemical compositions and properties (%)
Brand

C




Mn
Si
Cr
Ni
Mo
W
Co
Fe
Hardness(HRC)
Stellite 4
0.8-1.2
1.0
≤1.5
28.0-32.0

≤

3.0

≤

1.5
12.5-15.5
Bal.

≤

3.0
40-46
Stellite 6
0.9-1.4
1.0

≤1.5

27.0-31.0

≤3.0

≤1.5

3.5-5.5
Bal.

≤3.0

38-44
Stellite 12
1.1-1.7
1.0

≤1.0

28.0-32.0

≤3.0

-
7.0-9.5
Bal.

≤3.0

44-49
SYTOP cobalt-based alloy is a range of cobalt-chromium-tungsten alloys with wear resistance, corrosion and high thermal resistance. It is widely used in oil & gas, machinery, wood cutting, automotive, paper and food processing industry etc.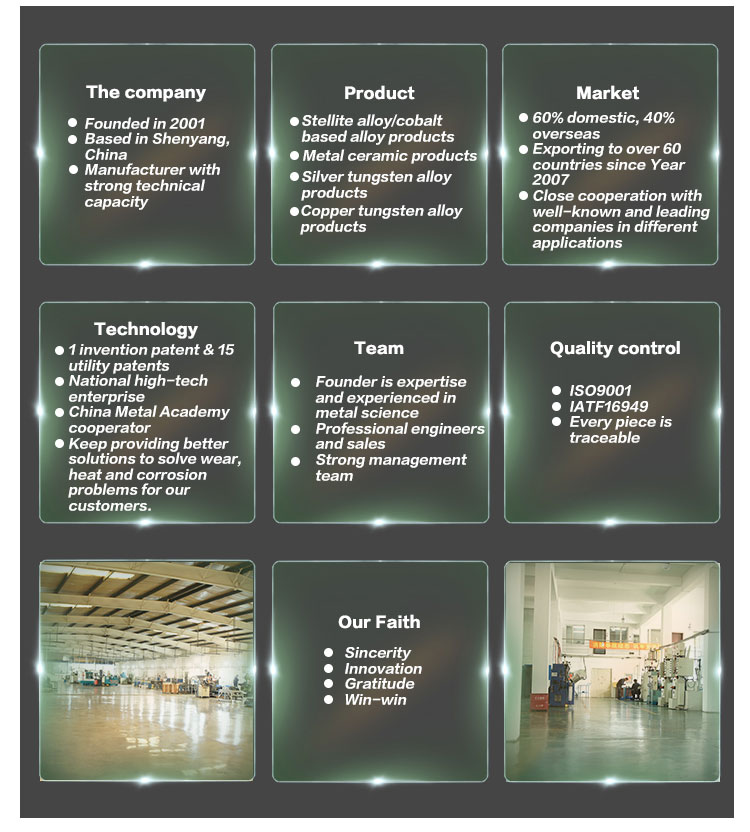 Other products that we can made :
Different size bars, rods, plate by powder metallurgy process

Drawing made seal , valve seat and ball , bush and sleeve etc, by powder metallurgy process or investment casting process.

Welding rod by continuous casting process

Most of our products are made upon request so contact us right now for personal and professoinal service.
More details about cobalt chrome products please do not hesitate to contact me .